With GBs of spaces, you can have a huge number of MP3 files in your hard drive. But in a very limited storage capacity like perhaps in a portable MP3 player of yours, you'll need to do something if you want to keep as many MP3 files as possible within. If you find other mp3 files you still want to put inside but the storage capacity reaches its limit, then probably you want to compress MP3 size.
The problem with compressing MP3 size is sometimes you get a lower quality than the original as the impact of the compression. But this will not be the case if you use this tiny freeware called as MP3 Quality Modifier.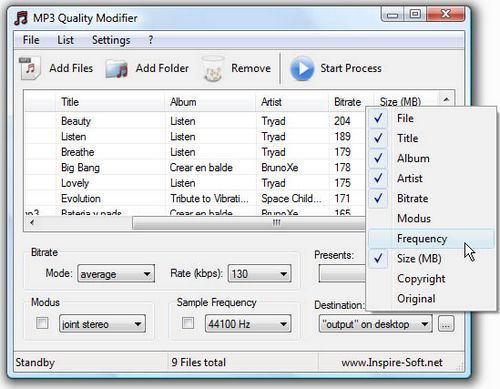 MP3 Quality Modifier can compress mp3 size while keeping the quality closest to the original. In fact, you may not even notice the different after the compression even if you use the lowest setting.
This application compresses your mp3 size by changing the bitrate. There is a number of quality presets provided that you can select, but you can also change the bitrate by selecting one of the available modes or rates (kbps). The quality presets include high quality, portable, compromise, and very low quality.
MP3 Quality Modifier is a portable application and designed to work on Windows. You can compress one mp3 file at a time or compress multiple mp3 files at once.
Download MP3 Quality Modifier to compress mp3 size
via reduce mp3 size